Cell Phone Tower Pictures,
Image Gallery #2
Here are some more random cell phone tower pictures in our increasing gallery of images. At Tower Genius, we literally have thousands of cell phone tower pictures on paper and floppy's  back from the ancient days of wireless. We promise to add more as this seems to be a pretty popular part of our site.

We are the USA's Premier
Cell Site Lease Consulting Services Firm.
Maximize The Value Of Your Cell Tower Lease.
Make Sense Of Confusing Cell Tower Offers.
 Call Tower Genius 1-888-313-9750.
---
Monopole Cellular Site
Picture of cell phone tower Monopole on a recreational field. Now imagine if this site was not a plain tower, but rather a "cell tower tree". A tree-pole site might not assimilate as well as a traditional tower at this location.

Tower Genius helps to guide town zoning a boards towards developing cellular communications sites that meet coverage objectives that the wireless carriers have, but also are in the best interests of the communities they are placed in.

---
Cell Site Equipment Cabinets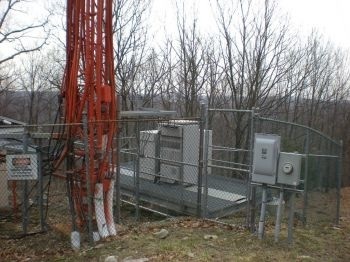 These are typical equipment cabinets used by Sprint PCS or T-Mobile. They are located on a raised platform to protect against water runoff.

AT&T Wireless and Verizon Wireless for the most part use 360 square foot prefabricated shelters to house their equipment.

---
Antennas on existing electical tower.
One of our many  cell phone tower images that show how the placing of wireless antennas on an existing structure reduces visual impact.

Whenever dealing with an electrical utility company that has a tower with an easement on your property, you want to make sure that you maximize your ability to collect a rental check from a cellular carrier.

***IF YOUR EASEMENT WITH THE ELECTRIC COMPANY DOES NOT STATE THAT YOU ARE NOT ALLOWING THE DEPLOYMENT OF WIRELESS ANTENNAS ON THEIR TOWERS OVER YOUR GROUND SPACE -- YOU MAY HAVE NO RECOURSE AGAINST THEM TO RECEIVE RENT FROM A CARRIER.* * *

If you've been approached by a power company with electrical towers running through your property, before you sign anything with them, contact Tower Genius Telecom Property Management, Inc.

---
Rooftop Antenna Cell Site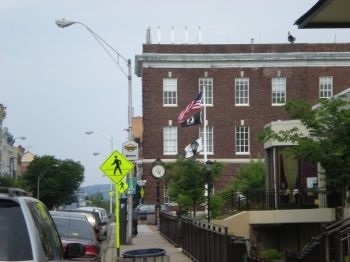 This is a typical rooftop cellular parapet antenna mount in New York on a 3-story 33-foot building in a downtown business district.

Increasingly, these "mature" wireless coverage areas are not going for "height and distance" as they did in early stages of network deployment. These capacity sites will be increasing in frequency as more sites are needed to meet coverage demand.

Note the white antennas against the sky and against the roof parapet. These antennas although visible from the street blend in and do not cause any particular negative visual impact. These "stealth antennas" can be made to mimic any steel, brick-face, stucco or even wood facade in virtually any color imaginable.

---
More rooftop pictures
This isn't our clearest cell phone tower pictures, but it shows a wireless rooftop antennas site on top of a factory warehouse that had a large rooftop but only had a limited footprint for locating the equipment shelters.

In this case we can see TWO 360 ft. sq. equipment shelters with one mounted on top of the other. You can rest assured that the landlord was thrilled to get the additional rental check for the 2nd carrier.


More Cell Phone Tower Pictures
Talk to one of Tower Genius's cell phone tower lease consultants.

| | | |
| --- | --- | --- |
| | Find out from Tower Genius how we help landlords and property owners in the USA  maximize cell site lease values and get the best possible terms for: | |
Cell tower lease agreements 
Tower lease extensions 
Cell site upgrades 
Small cell proposals 
Lease amendments 
Tower lease buyouts offers 
Rooftop lease buyout offers 
Rooftop cell site audits 
Lease Agreement defaults 
Cell tower valuations 
Rent reduction solicitations 
Lease optimization questions

Verizon Wireless 

AT&T

T-Mobile and Sprint

DISH Wireless

US Cellular

SBA Communications

Crown Castle

American Tower

Vertical Bridge
Lendlease Towers
Tillman Infrastructure
Black Dot, Md7, Lyle Company
Need help with your cell tower lease?
1-888-313-9750
Wireless Telecom Consulting & Transactional Coaching for Landlords and Landowners.