Cellular Tower Pictures
Image Gallery #4
These cellular tower pictures are examples of concealed cellular towers, which are disguised or altered to lessen the perceived visual impact of a traditional lattice or monopole cellular communications tower. However, some will argue that these "camouflage" cell sites are actually more of a visual distraction than a traditional tower. For example, while driving along Route 287 in the Garden State most people don't remember the dozens of cell towers that they pass, but they all remember the cell tower  tree pole near the Route 78 Junction. However, disguised cellular towers when selected and placed correctly blend in with their environment naturally.
We are the USA's Premier
Cell Site Lease Consulting Services Firm.
Maximize The Value Of Your Cell Tower Lease.
Make Sense Of Confusing Cell Tower Offers.
 Call Tower Genius 1-888-313-9750.
---

Disguised Flagpole Cellular Tower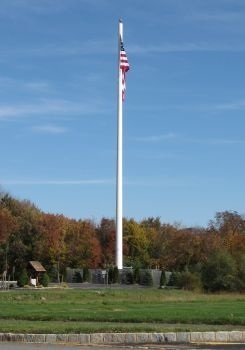 This is an excellent concealed antenna cell site located in Morris County, New Jersey at the rear of a volunteer fire department. There is a church adjacent to the site and it is surrounded by an upscale residential area. The cell tower site is set back from the road about 100 yards which takes away from the size effect this 120' multiple-carrier site has.  The site blends in very well with the surrounding community and a local neighbor was quoted as saying, "Cell tower? What cell tower? I didn't know that the firehouse had a cell tower. I thought they were just really patriotic."

---

 Camouflage Rooftop Cellular Antennas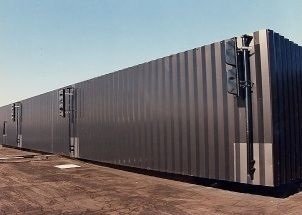 This disguised cell site is designed to blend in with the steel rooftop enclosure and does a pretty good job. These antennas will be very difficult to notice unless you were trying to find them. It's all about reducing visual impact.

---

When a Traditional Site Would Be Better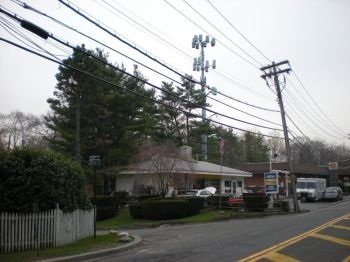 Here is a perfect example of a carrier giving a zoning board EXACTLY what they ask for, and they get a camouflaged cellular site that would have been a lot better on the eyes if it was just a regular monopole.  Most likely one of the concerned citizens wanted a site to resemble a light pole, similar to what you'd see at a football or recreation field.  And they ended up with this horrible looking site.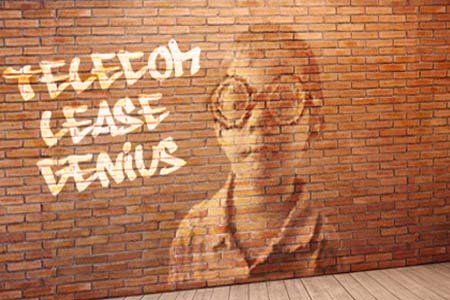 ---
More Cellular tower Pictures - back to Image Gallery One

| | | |
| --- | --- | --- |
| | Find out from Tower Genius how we help landlords and property owners in the USA  maximize cell site lease values and get the best possible terms for: | |
Cell tower lease agreements 
Tower lease extensions 
Cell site upgrades 
Small cell proposals 
Lease amendments 
Tower lease buyouts offers 
Rooftop lease buyout offers 
Rooftop cell site audits 
Lease Agreement defaults 
Cell tower valuations 
Rent reduction solicitations 
Lease optimization questions

Verizon Wireless 

AT&T

T-Mobile and Sprint

DISH Wireless

US Cellular

SBA Communications

Crown Castle

American Tower

Vertical Bridge
Lendlease Towers
Tillman Infrastructure
Black Dot, Md7, Lyle Company
Need help with your cell tower lease?
1-888-313-9750
Wireless Telecom Consulting & Transactional Coaching for Landlords and Landowners.