Concealed Cell Towers
Concealed cell towers are also referred to as camouflage cell towers, hidden cell towers and disguised cell towers. These cellular sites  are often developed on municipal properties or on church properties on bell towers, church or town hall cupolas or church steeples. Often times cellular antennas are concealed in artificial trees (Palm trees on the West Coast and Pine trees on the East Coast), grain silos, flag poles, wind mills, pole signs and lighthouses.

We are the USA's Premier
Cell Site Lease Consulting Services Firm.
Maximize The Value Of Your Cell Tower Lease.
Make Sense Of Confusing Cell Tower Offers.
 Call Tower Genius 1-888-313-9750.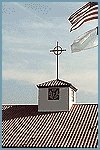 Communities who staunchly oppose the development of cellular communication sites often petition their zoning board of appeals to force carriers to propose and build cellphone towers that blend into their surroundings or are virtually undetectable. Carriers could save a lot of money on zoning legal expenses by proposing camouflage cellular sites

Concealed cell towers when deployed and integrated properly blend in with their surroundings and are often difficult or impossible to detect.  Here are some great examples of camouflage cell sites.

Images courtesy of STEALTH® Concealment Solutions, Inc., a leading designer and fabricator of Cellular Antenna Concealment Systems custom engineered for Municipal and Church Wireless Communication Sites.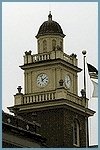 This is a great application of a cellular antenna concealment on a typical building that can usually be found on a Municipal Building, Library, or Courthouse. The cellular antennas are concealed within the cupola facade, and are completely undetectable. The use of an existing high-elevation structure reduces the need to build an additional tower in the coverage area. When cellular antennas are deployed on municipal property, the revenue generated can provide decades of revenue for community initiatives.

Municipalities who require the use of disguised cell towers by the carriers in return for a streamlined zoning review process can ultimately save the huge  costs involved with fighting the carriers in the courts and prevent wireless sprawl in their communities, allowing for proper wireless expansion.


---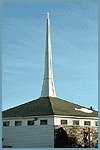 Is it church steeple or is a cellular phone tower? There is absolutely no way to know that this church steeple is a cellphone tower. As more cellular sites will be needed to be constructed throughout the United States, municipalities that have created wireless ordinances favoring the use of concealed antenna cellular technology can prevent the obstruction of their view-sheds with a camouflage cell tower solution such as this cellular steeple replacement.

Cost of construction is paid by the carrier, not the property owner. Carriers can justify the expense of a customized concealed antenna deployment by the time and money saved in zoning and fighting the municipality in court.
---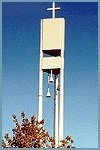 A hidden cell tower such as this disguised church bell tower are a win/win solution for any community concerned about the aesthetics of having a traditional cell tower built in or near their community. The problem that many municipalities have is that their municipal cell tower ordinances  are non-specific, non-existent or poorly written. Towns that embrace wireless technologies and are willing to work with the cellular carriers instead of constantly fighting them will find that the carriers are willing to incur the additional cost of concealing a cellular tower.
---
Contact Tower Genius If You Have Questions About Concealed Cell Towers.


Contact us about concealed cell towers for your municipality.

To view more camouflaged cell tower pictures and various concealed cell tower and rooftop  cell tower sites, please visit our image gallery.

| | | |
| --- | --- | --- |
| | Find out from Tower Genius how we help landlords and property owners in the USA  maximize cell site lease values and get the best possible terms for: | |
Cell tower lease agreements 
Tower lease extensions 
Cell site upgrades 
Small cell proposals 
Lease amendments 
Tower lease buyouts offers 
Rooftop lease buyout offers 
Rooftop cell site audits 
Lease Agreement defaults 
Cell tower valuations 
Rent reduction solicitations 
Lease optimization questions

Verizon Wireless 

AT&T

T-Mobile and Sprint

DISH Wireless

US Cellular

SBA Communications

Crown Castle

American Tower

Vertical Bridge
Lendlease Towers
Tillman Infrastructure
Black Dot, Md7, Lyle Company
Need help with your cell tower lease?
1-888-313-9750
Wireless Telecom Consulting & Transactional Coaching for Landlords and Landowners.