Cell Tower Consultant Executive Profile
Steve Kazella, Founder at Tower Genius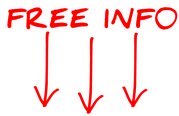 Message from Kevin Donohue, Managing Partner at Tower Genius.

Cell Tower Consultant and Telecom Lease Genius, Stephen Kazella is the Founder and Managing Partner of Tower Genius LLC, an independent Wireless Consulting firm. Tower Genius helps property owners, landlords and municipalities lease and develop cell tower and rooftop cellular antenna co-location sites with wireless carriers leveraging over 45+ years combined wireless lease negotiation and cell site development experience. Tower Genius is one of only a handful of firms in the United States who work exclusively with Owners and Landlords to guide them through the shark infested waters of Telecommunications Leasing, to maximize their cellular lease revenues, and level the playing field with the Cellular Carriers.

We are the USA's Premier
Cell Site Lease Consulting Services Firm.
Maximize The Value Of Your Cell Tower Lease.
Make Sense Of Confusing Cell Tower Offers.
Speak With One of Our Partners.
Call Kevin 
Donohue
 or Steve Kazella at 1-888-313-9750.

---
Steve graduated Montclair State College with a Bachelor of Science Degree and moved to Budapest, Hungary in 1993. He decided to commit several years of service right after graduating college to serve the poor, serving as an International Partner for Habitat for Humanity International where he helped dozens of low income, hard working Hungarian families the achieve the dream of home ownership in  country where before 1996 there hadn't been a single mortgage underwritten for a residential home purchase.

Steve helped organize the finance committee and helped draft perhaps the first residential mortgage document ever underwritten in the former Eastern Block. (Steve was even mentioned by his friend, Founder and Former CEO of Habitat for Humanity International, Millard Fuller (1935-2009) in his book, "A Simple, Decent Place To Live" and made countless media appearances while promoting Habitat for Humanity raise funds in Budapest.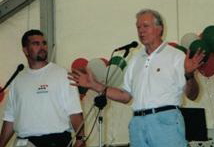 (Pictured Above: Stephen L. Kazella
alongside President Carter in Hungary, 1996.)
He got his first experience in real estate site acquisition and dealing with city zoning officials as an International Partner with HFHI in Budapest, Hungary in 1993. As a fluent Hungarian speaker he negotiated and helped secure several municipal land donations for Habitat construction sites in several cities including Mátészalka and  Vác, Hungary, the site of the 1996 Jimmy Carter Work Project, where Steve was also responsible for family selection.



---
Steve Kazella's telecommunications leasing experience stems from his wireless leasing position at Integrated Wireless Alliance in New York where he started out in 2000 as a real estate project manager leasing cell tower sites for Verizon Wireless, OmniPoint (later VoiceStream, now T-Mobile) and Sprint PCS. He also project managed co-locations with Crown, American Tower, SpectraSite, Nextel and AT&T Wireless in New Jersey, Rockland County, Orange County, Dutchess County, Putnam County, Westchester County and New York City.

Steve had full project lifecycle involvement from initial site identification through site selection, wireless lease negotiation, application and zoning, until handing off site to construction engineers.

As a cell tower consultant in his daily routine  he dealt with landlords, attorneys, construction managers, architectural engineers and RF engineers, building inspectors, tax assessors and zoning boards. Steve has remained active in helping municipalities develop wireless ordinances and has been a vocal proponent for increased E911 coverage  through the development of additional Municipal, County and State cellular sites with streamlined  zoning  requirements.


Perhaps the major accomplishment of his wireless career was being part of an 8 member Emergency Response CERT Team where who supported FEMA and one of the nation's leading wireless carriers in organizing and directing emergency recovery and disaster response efforts immediately after 9/11 at the World Trade Center site.

His team was directly responsible for the deployment of 36 portable cell towers (COWS = cell on wheels), getting temporary power and linking up a microwave feed from Jersey City to Lower Manhattan, making sure everyone's cell phone worked in Lower Manhattan after the attacks.

Steve Kazella has transitioned from being a traditional site acquisition cell tower consultant working for the carriers on their tower lease, to being a recognized cell tower leasing and rooftop cellular site management expert working for and with property owners and landlords.
Steve also has considerable experience in the executive search profession, and has worked as a recruiter and headhunter since 1998, and is also the owner of a Dental Recruitment Agency.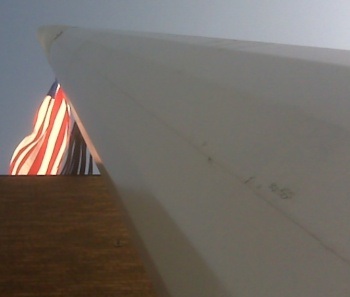 If you are a landlord or property owner in need of a cell tower consultant who does not have any conflicts with the cellular carriers or with the cell tower developers, then you should contact cell tower consultant Steve Kazella.

Steve's Published Articles:
Inside Self Storage - Cell Tower article, October 2009 Issue
Church Solutions Magazine - republished 2010: Cell Towers and Your Church 
Cell Tower Consultant In the Media:
New York Times: Good Cellphone Service Comes at a Price
The Star-Ledger - NJ.com:  Disguised cellular phone towers sprout up across N.J.
Realtor Magazine - 2018 - Are Cell Tower Leases in Your Sight? 
Find out from Tower Genius how we help landlords and property owners in the USA  maximize cell site lease values and get the best possible terms for:
Verizon Wireless 

AT&T

T-Mobile

Sprint

US Cellular

SBA Communications

Crown Castle

American Tower

Vertical Bridge
Lendlease Towers
Tillman Infrastructure
Black Dot, Md7, Lyle Company
Contact Tower Genius Today.
1-888-313-9750
We Would Like to Hear From You!