Are You Maximizing Your Cell Phone Tower Lease Rental Stream?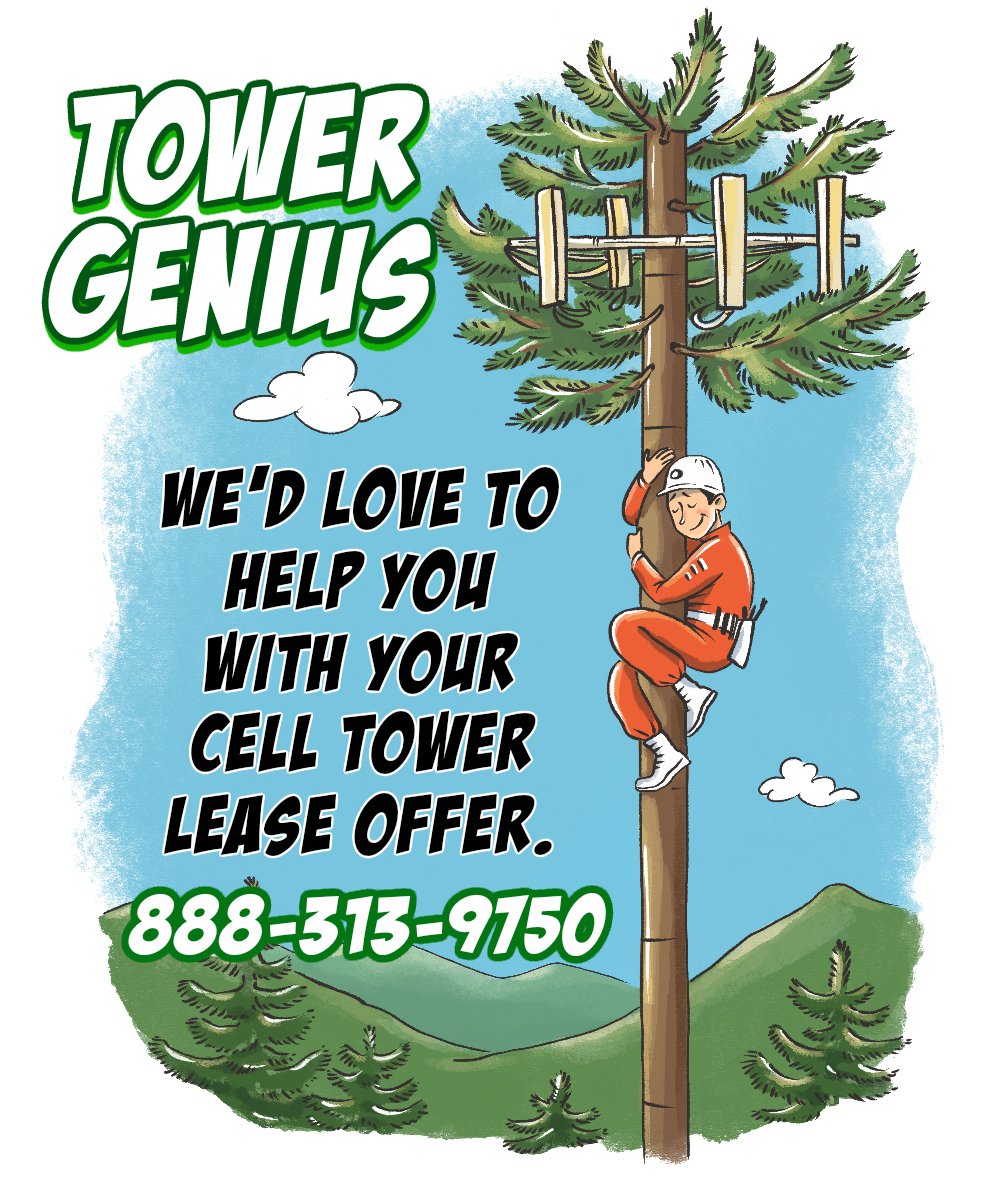 IS YOUR CELL PHONE TOWER LEASE RENTAL STREAM ABOVE OR BELOW MARKET?
Tower Genius is a specialized consulting company that specializes in providing consulting and advisory services related to cell phone towers, exclusively for property owners. We can assist you in various ways when it comes to cell phone towers. Here are some ways Tower Genius can help:
Contacted By Site Acquisition: Tower Genius can help property owners whose property has been identified as a potential site for a newly proposed cell phone tower for a wireless carrier or cell tower development company. We can help you or your attorney to properly negotiate lease agreements with the real estate acquisition representative. We have a background in site acquisition ourselves and can evaluate your site's feasibility, zoning regulations, and coach you to negotiate favorable lease terms for cell tower placement.
Lease Renewals and Extensions: If you already have a cell tower lease agreement in place, Tower Genius can assist you and your attorney when it comes time to renew and extend your Verizon Wireless, AT&T, T-Mobile, US Cellular, DISH, American Tower, Crown Castle, SBA Communications or Vertical Bridge agreements. 

Cell Tower Lease Buyouts and Easement Sales: Tower Genius can assist you if you are considering selling your cell tower lease income stream. We can help guide you through the lease buyout minefield, ensuring you receive the best possible value for your wireless lease.
Cell Tower Valuation: Tower Genius can provide expert valuation services to determine the market value of your cell tower lease agreement. This can be useful if you are looking to sell a property with a cell tower on it, and even help you if you are a state appraiser having to come up with a value of a cell tower lease for an eminent domain situation.
Cell Tower Lease Optimization Letters: Tower Genius can analyze these annoying and semi-predatory lease optimization rent reduction solicitations being sent out to property owners by third party vendors representing the wireless carriers.  
Lease Compliance Auditing: Tower Genius can help you to determine if a cellular carrier or tower company is in breach of their lease agreement, help identify any discrepancies or errors and help you to get your tenants to rectify them.
Expert Advice and Consulting: Tower Genius has a team of seasoned wireless industry experts who can provide you with the guidance and the information that you need to navigate through the shark-infested waters of cell tower lease negotiations. 
Need Cell Phone Tower Lease Help?
Overall, Tower Genius can help you make informed decisions, help you to optimize your cell phone tower revenue, and navigate the complexities of being a cell tower landlord.
Chris, a cell site landlord in New England contacted Tower Genius because they needed help with getting one of their 4 existing rooftop cell site leases renewed with AT&T. After hiring us to assist them, Tower Genius noticed that there was an opportunity to increase the rent payments despite the carrier telling the building owner that no rent increase was possible. Tower Genius then uncovered nearly $100,000 in unreimbursed electrical expenses that AT&T had not paid for over the lifetime of the lease, and was then also able to recover approximately one half million dollars in electrical payments from all 4 wireless tenants for two decades of free electrical service. Tower Genius not only recovered the money from AT&T for the landlord, they recovered it from Verizon Wireless, T-Mobile and Sprint. Neither of these carriers had informed then property owner that their sub-meter readings were not being sent in for reimbursement. And Tower Genius used this as leverage when helping the building owner maximize the value of their AT&T lease renewal.
Danny, another cell site landlord in the NYC Metropolitan Area contacted and hired Tower Genius to help with the renewal of their T-Mobile lease. After reviewing the rental payments and other aspects of the T-Mobile lease and another rooftop carrier lease, we realized that there was money missing, and after further investigation it was determined that there was a high probability that the building manager handling the cell tower leases was skimming money from the rents, this led the owners to hiring a forensic accountant that identified approximately $100,000 in diverted funds over the years and landed the building manager in prison.
Mitch, a West-Coast building manager hired Tower Genius because his company was having trouble with AT&T. They were concerned that they were leaving money on the table. When all was said and done, the building owner's rooftop cell site rent increased by over $2,400 monthly, and the building also received over $50,000 in electrical payment reimbursement. 
Tom, a retired cop and cell phone tower landlord was ready to sell his cell phone tower and finalize a lease buyout transaction for $2,000,000 (TWO MILLION DOLLARS), and his attorney advised him to have a wireless industry professional review his offer and transaction before he sold the cell tower and perpetual easement. He hired Tower Genius and ended up selling the same cell tower and increased his lease buyout transaction by $700,000 (SEVEN HUNDRED THOUSAND DOLLARS).
We are the USA's Premier
Cell Site Lease Consulting Services Firm.
Maximize The Value Of Your Cell Tower Lease.
Make Sense Of Confusing Cell Tower Offers.
 Call Tower Genius 1-888-313-9750.
Do you need help with a new cell phone tower lease agreement, renewal of your American Tower, Crown Castle or SBA Communications cell tower lease, or the sale of your cell tower rental stream? Tower Genius is ready to assist you. Give us a call anytime at 1-888-313-9750 or fill out the form below.
| | | |
| --- | --- | --- |
| | Find out from Tower Genius how we help landlords and property owners in the USA  maximize cell site lease values and get the best possible terms for: | |
Cell tower lease agreements 
Tower lease extensions 
Cell site upgrades 
Small cell proposals 
Lease amendments 
Tower lease buyouts offers 
Rooftop lease buyout offers 
Rooftop cell site audits 
Lease Agreement defaults 
Cell tower valuations 
Rent reduction solicitations 
Lease optimization questions

Verizon Wireless 

AT&T

T-Mobile and Sprint

DISH Wireless

US Cellular

SBA Communications

Crown Castle

American Tower

Vertical Bridge
Lendlease Towers
Tillman Infrastructure
Black Dot, Md7, Lyle Company
Need help with your cell tower lease?
1-888-313-9750
Wireless Telecom Consulting & Transactional Coaching for Landlords and Landowners.