WHO BUILDS CELL PHONE TOWERS?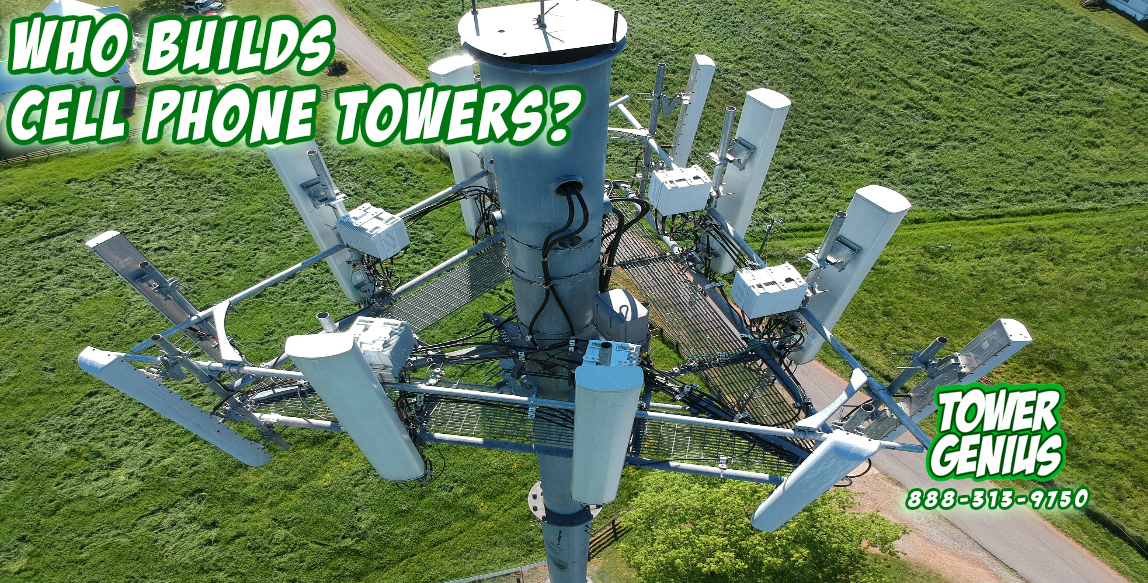 Okay. Who builds cell phone towers? Glad you asked. We get asked this questions pretty frequently. Typically people who are trying to get a cell tower built on their property are the ones asking the question.  
Please watch the video just below if you are trying to find the fastest way to determine who builds cell phone towers in your local area. 
We are the USA's Premier
Cell Site Lease Consulting Services Firm.
Maximize The Value Of Your Cell Tower Lease.
Make Sense Of Confusing Cell Tower Offers.
 Call Tower Genius 1-888-313-9750.
Cell phone towers are typically built by tower companies or wireless infrastructure companies. These companies specialize in the design, construction, and maintenance of cell towers to support wireless communication networks. Some of the major tower companies include:
American Tower Corporation: American Tower is one of the largest tower companies globally, with a vast portfolio of cell towers across multiple countries. They own and operate towers and other wireless infrastructure, providing space for multiple wireless carriers on their structures.
Crown Castle International Corp: Crown Castle is another prominent tower company in the United States. They own and manage a significant number of cell towers and other wireless infrastructure, leasing space to wireless carriers for their equipment and antennas.
SBA Communications Corporation: SBA Communications is a leading independent owner and operator of wireless communications infrastructure, including cell towers. They provide space for wireless carriers to install their equipment and antennas on their towers.
Vertical Bridge Holdings, LLC: Vertical Bridge is a privately-owned company focused on the ownership, management, and development of wireless communications infrastructure. They specialize in tower construction and leasing space to wireless carriers.
These tower companies are responsible for acquiring suitable sites, obtaining necessary permits and approvals, designing and constructing the towers, and leasing space to wireless carriers for their equipment. They play a crucial role in expanding and maintaining the wireless network infrastructure that enables cell phone communication.
Overall, the construction and ownership of phone towers involve a combination of wireless carriers, tower companies, independent developers, and sometimes government entities or private landowners.
| | | |
| --- | --- | --- |
| | Find out from Tower Genius how we help landlords and property owners in the USA  maximize cell site lease values and get the best possible terms for: | |
Cell tower lease agreements 
Tower lease extensions 
Cell site upgrades 
Small cell proposals 
Lease amendments 
Tower lease buyouts offers 
Rooftop lease buyout offers 
Rooftop cell site audits 
Lease Agreement defaults 
Cell tower valuations 
Rent reduction solicitations 
Lease optimization questions

Verizon Wireless 

AT&T

T-Mobile and Sprint

DISH Wireless

US Cellular

SBA Communications

Crown Castle

American Tower

Vertical Bridge
Lendlease Towers
Tillman Infrastructure
Black Dot, Md7, Lyle Company
Need help with your cell tower lease?
1-888-313-9750
Wireless Telecom Consulting & Transactional Coaching for Landlords and Landowners.